Julia Boström & Kristian Berglund returns to Berlin for a weekend-exhibition and friday-night-party! Welcome to Kunsthalle m3, Atelierhaus Mengerzeile, Berlin.
Opening 2.10 at 18.oo-22.00, The club downstairs opens around 21…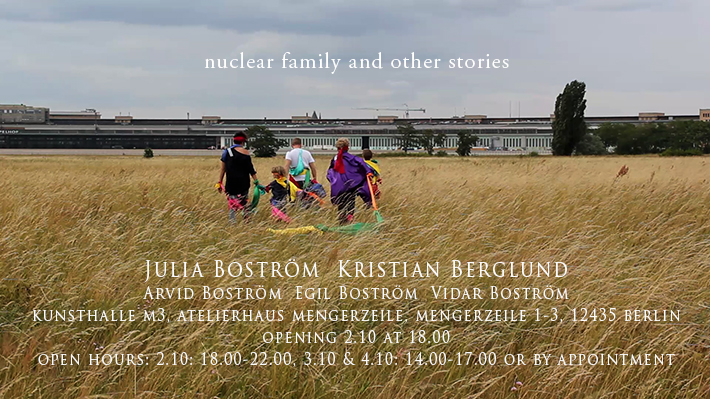 The exhibition Nuclear family and other stories is based on the experience of five persons living and working together in a studio in Berlin.
The artists Julia Boström and Kristian Berglund exploring together with their three children reality and its conditions through play and seriousness. This exhibition brings together newly produced wall paintings, photography, sculpture and video works. Collective processes mixed with individual works. In this project, we have an interest in questions around power, shifts in perspective and center/periphery.
The exhibition includes works by five people, a nuclear family living on a small farm in rural western Sweden. May-July 2015 they lived in the guest studio in Atelierhaus Mengerzeile, Berlin as part of the region of Västra Götalands (Sweden) residency programme.
—
Utställningen Nuclear family and other stories tar sin utgångspunkt i fem personers upplevelse av att leva, bo och arbeta tillsammans i en ateljé i Berlin.
Konstnärerna Julia Boström och Kristian Berglund undersöker tillsammans med sina tre barn verkligheten och dess förutsättningar genom lek och allvar. I utställningen möts nyproducerade väggmålningar, fotografier, skulptur och videoverk. Kollektiva processer blandas med enskilda verk. I detta projekt har vi intresserat oss för frågor kring makt, perspektivskiften och centrum/periferi.
Utställningen innehåller verk av fem personer, en kärnfamilj som bor på en liten gård på landsbygden i västra Sverige. Maj-Juli 2015 vistades de i gästateljén i Atelierhaus Mengerzeile, Berlin som Västra Götalandsregionens stipendiater.